01Oct1:00 pm3:00 pmPathways to Careers & Education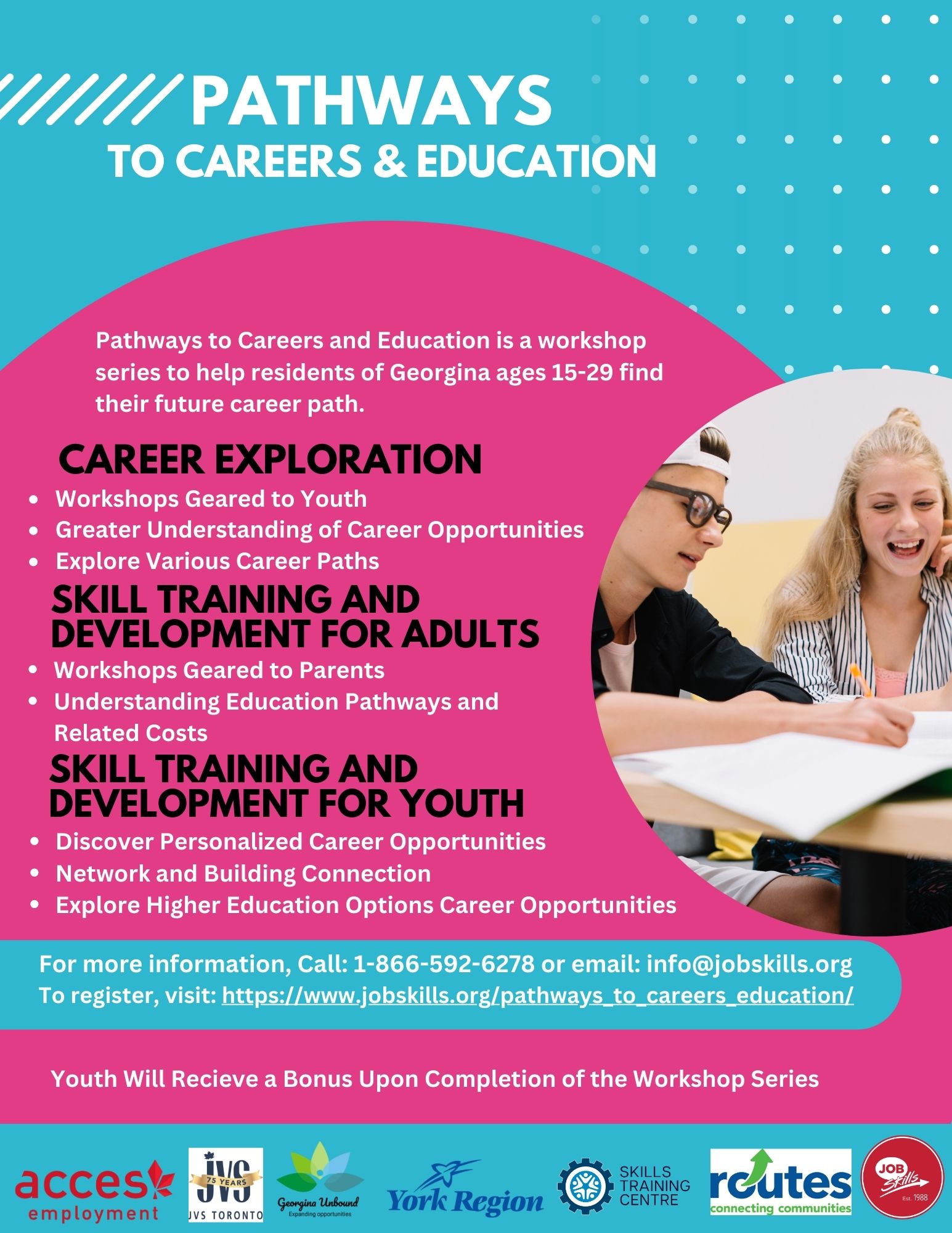 Event Details

Are you a young person, or a parent of a young person, feeling overwhelmed by the possibilities and decisions involved in choosing a career?

Consider attending our Pathways to Careers & Education workshop series!

Through this activity, you will better understand the various pathways available and build a stronger focus on a career. The Series will use tools like Personality Dimensions, Strong Interest Inventory and labour market research. These workshops provide valuable information on career pathways.

We are here to help Georgina's youth focus on their career aspirations and goals.
WORKSHOP SERIES:
CAREER EXPLORATION WORKSHOPS
Workshop series geared to youth to explore career options and how to access careers of interest based on Personality Dimensions and Strong Interest Inventory tools and labour market research (including 5-year projections of career). This activity supports a greater understanding of career opportunities, strengthens focus on career versus job perspective, and provides information about various pathways, including non-traditional and alternative career pathways.
SKILLS TRAINING AND DEVELOPMENT WORKSHOP FOR YOUTH
Workshops for youth to identify the importance of choosing a career and inform them that careers require higher education. This information supports Georgina's youth in discovering various career pathways suitable to their interests and skills. Gained knowledge shared among peers experiencing the same life decisions will help build social connections and increase their understanding of high education and career opportunities.
SKILLS TRAINING AND DEVELOPMENT WORKSHOPS FOR ADULTS
Workshop series geared to parents to support understanding of post-secondary education, related costs, micro-credentials, and alternative pathways to education. The workshop provides information to families of youth to be better informed to navigate the available higher education and skill training opportunities and supports.
Dates and times to be determined
To register click HERE
more
Time

(Sunday) 1:00 pm - 3:00 pm